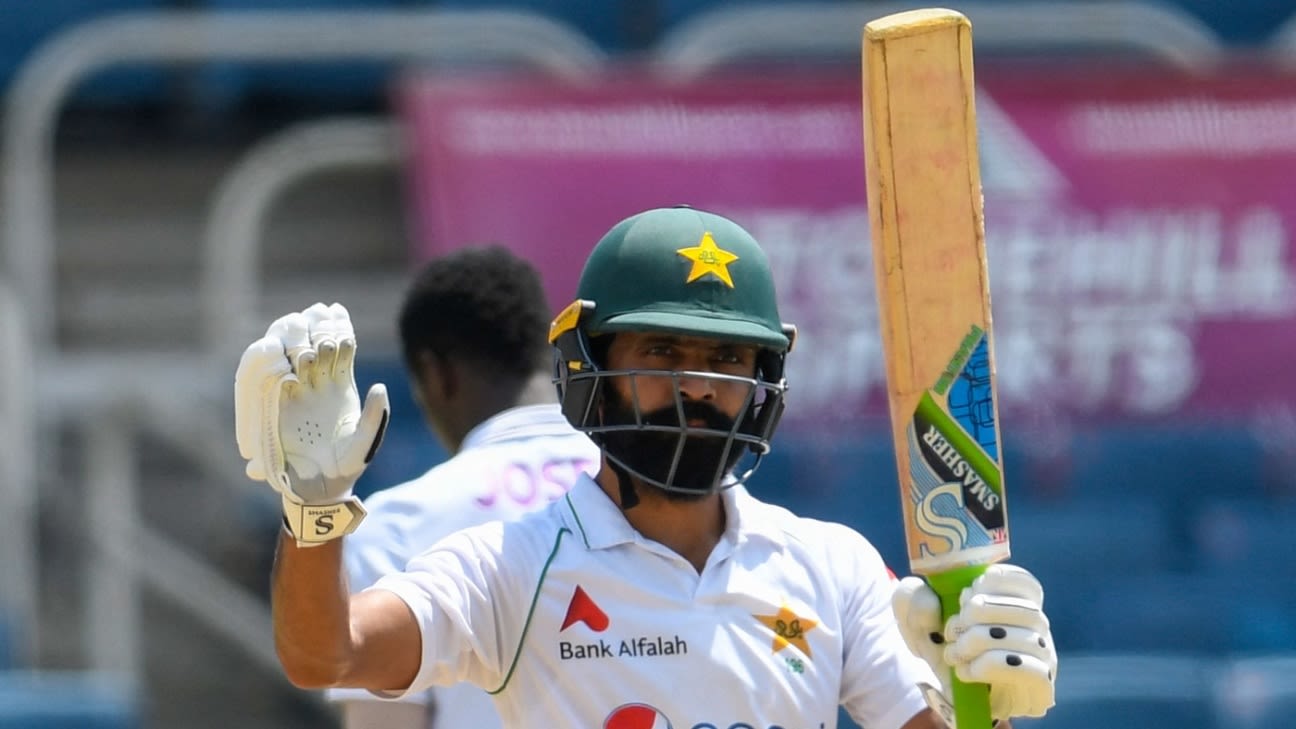 Recent Match Report – Pakistan vs West Indies 2nd Test 2021
[ad_1]
Report
Picking up after retiring injured, batter made sure West Indian bowlers were kept at bay
Breakfast: Pakistan 273 for 8 (Shaheen Afridi 4 *, Alam 111 *) v West Indies
A wet outfield was the reason for what was a ridiculously long delay to the start, but the cricket we ended up getting was a bit dry. In a slow session, Pakistan crawled for the first two hours while losing wickets at regular intervals, and ended up adding just 61 races to their score on Day 1. That's largely thanks to in Fawad Alam's Century of Steel – his fourth of the year, but Kemar Roach, Jayden Seales and Jason Holder continued to make forays on the other end to ensure visitors were eight per tea.
Despite bright sunshine on a day when 98 overs were initially due to be played, only eight balls were possible before lunch was due to be taken on the third day of the second test. A wet area around the pitcher's swing at the end of Michael Holding was the culprit, with Holder only throwing two balls from that end before asking the referees to get involved. Long discussions involving captains, coaches, match officials and the match referee ensued, before officials decided to take an earlier lunch break.
The intermediate session has at times been as drowsy as the weather delays over the past four sessions, with just six runs scored in the first ten overs of the day. Mohammad Rizwan and Faheem Ashraf finally touched on the 50-point partnership, but were in truth going nowhere, even if Pakistan were to force a result. Much of this was thanks to the regiment's disciplined bowling, with the fast bowlers allowing few scoring opportunities.
These one-stop-shop lines have paid off, with both men being fired lbw. Faheem was the first to go, leaving a gap between the bat and the pad for Seales to focus on, while Rizwan moved too far towards Holder and got stuck in front. Nauman Ali was sent off for a duck ball first, and suddenly Holder found himself on a hat-trick, while the West Indies scented a collapse.
Alam, who had returned after retiring injured on the first day, realized it was time to start. A movement of his wrists that got him four snapped the chains, and he found himself walking towards three figures. A midwicket pull took him to the landmark, and as the locker room rose as one, Fawad raised his bat; he had assured a Pakistani response during the session. Hasan Ali's exhaustion was squarely the centurion's responsibility, but after what Fawad did for his team this Test, few in the Pakistani locker room would hold it against him for too long.
Danyal Rasool is a sub-editor at ESPNcricinfo. @ Danny61000
[ad_2]