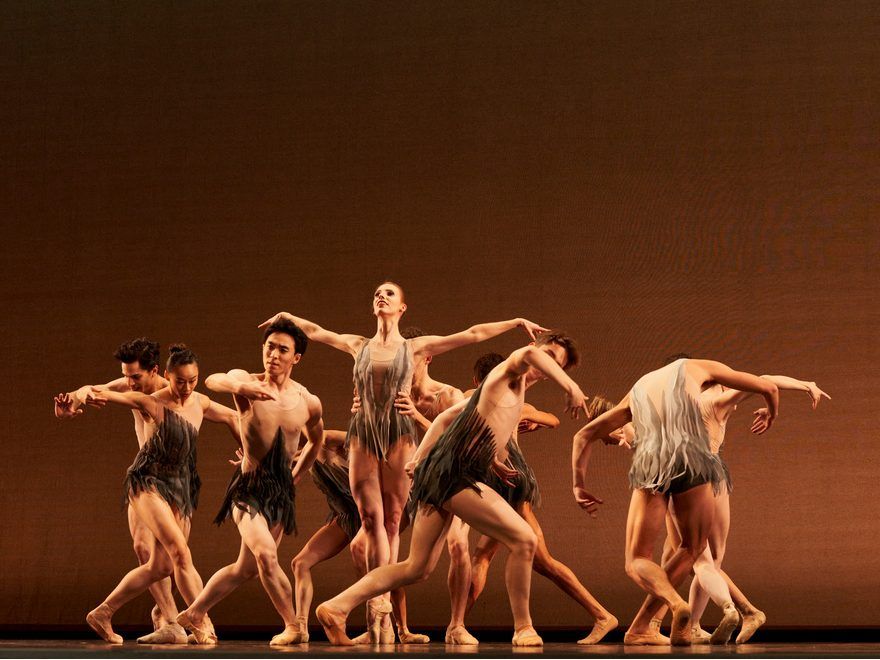 Review: Alberta Ballet's New Era Highlights Collaborative Expression
Reviews and recommendations are unbiased and products are independently selected. Postmedia may earn an affiliate commission on purchases made through links on this page.
Content of the article
With many relatively new members joining the body of Alberta Ballet over the past 18 months, it seemed only fitting to continue the company's 56th season on Thursday night in Calgary with a dance triple header. contemporary intended to challenge everyone with physically demanding yet compelling interpretive material.
Content of the article
The first piece, Petal, choreographed at the Banff Center by noted American dance artist Helen Pickett two years ago, attempted the vanity of flowers blooming profusely then changing their colors into streaks. The eight-member study was widely successful and impressive in its relentless combination of small ensemble setups. With the women in green gold and the men in blue leggings for contrast (costume designer Nete Joseph), the colors could be striking yet simple and effective against the often predominant hue of finch yellow of the set. The production team opted for a standard large box shape while lighting designer Todd Elmer, with adaptations by Jim French (costumes and sets on loan from Oregon Ballet Theatre), used yellows and pastels lighter all over.
Content of the article
The music, mostly by Philip Glass, a typical reference for contemporary choreographers, could distract and even overshadow the eagerness of the ensemble's balanced movement in many places, often set to contrasting symmetrical ground movement filled with lyrical curves, a sustained smoothness in the movement of the arms with some nice close-ups in the duets, which more than made up for the repetitive score.
Petal is not so much an 18-minute exposition of the flaking fragments of our lives, but rather an uplifting work that is never easy in its warmth and dynamism, especially during the central minutes with their welcome intimate lyricism.
Next is Alysa Pires' National Ballet of Canada commissioned piece, Skyward, one of the evening's most interesting tales of movement. Pires choreographed with intensity and great intimacy, especially the slow movements of his four-panel work for 11 dancers. Most intriguing was its focus on tight, muscular control.
Content of the article
Skyward is an exultant rocket into the dance stratosphere, but it also emphasizes discipline of movement and a bounty in its finale on coordinated ensemble choreography that shows the potential for even greater things to come. Pires is without a doubt one of the most promising choreographers I have seen in our country in a while and I look forward to seeing her next commissioned work as soon as possible.
Despite the kinetic exterior moves that certainly impressed, for me it was the second move that struck a chord on the night. It opened onto what looked like an Icelandic pebble beach, looking out into the mist of a gray ocean (beautiful lighting designed by Jeff Logue and adapted again by Jim French). The work's slow section (to music by Robert Honstein's Pulse from his three-section work Conduit performed by the eighth blackbird) begins with a superb solo dance by Michael Scott-Kahans, whose arms were literally stretched out "towards the sky," as if the piece were danced through the geological ages of time. His muscular back, shown for its strength, becomes an animated sculpture. It's one of the most captivating slow choreographies I've seen in a while. In the four-man ensemble that followed, surrounding a female soloist (Mariko Kondo), and again playing on the word Skyward, they may have elevated her to another realm. The rest of the ballet's lyrical midsection fits together seamlessly to become a microcosmic narrative within the larger arc of the work, often consisting of a quiet flexibility in every little movement of every muscle group continually reflecting a counterpoint to a considerable intensity throughout, especially in the exuberant finale. It was a story of life that would never end, continually rising "towards the sky".
Content of the article
The evening reached its programming zenith with the splendid Moving, Still by British choreographer Cathy Marston. Marston's choreography was a gem – clear, seamless, flowing in a series of five duets punctuated by occasional smaller ensemble pieces and background ensemble movement, including a beautifully danced enigmatic coda by Brittany Broussard, Caleb Durbin and Allison Perhach.
The physical requirements of each panel were very demanding. Tight work, frequent partnered segues, and detailed orientation of each dance pair were laid out with a remarkable, even scrupulous demand for agility, including an indescribable moment when a dancer had to lift herself only by her hips and legs. of an inverted horse. posture.
Content of the article
The new dancers received their showcase moments. One of the standouts was Allison Perhach, a favorite of the evening, who displayed tremendous kinetic polish mixed with refined balance highlighting a compelling signature move in her gripping opening duet with Eli Barnes, himself. a virtuoso in his own right. The third duet for Jennifer Gibson and Michael Scott-Kahans was a highlight, as was the more lyrical but confrontational dance by Alexandra Hughes and Zacharie Dun that followed. Some of the best choreographic games were found in Luna Sasaki and Kurtis Grimaldi's duet of tremendous magnetism and intensity, set mostly to resplendent Danish string quartet fragments composed or adapted by Hans Abrahamsen.
Last night's triple bill ably showcased the company's ability to renew itself with its intriguing and promising young talent. This is a formative period for Alberta Ballet, a new era beginning with exciting new artists in a reorganized company for collaborative expression, a time to develop a considerable sense of dance poetics. It will be exciting to see what comes next.
Away We Go takes place in Calgary from October 27-29 and in Edmonton from November 4-5.