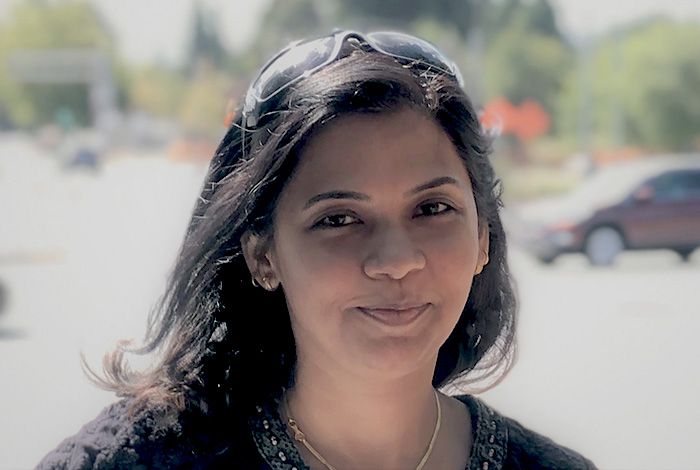 Tejal Bhalani shares the importance of AAPI Heritage Month
Centene spotlights Asian American and Pacific Islander (AAPI) employees and leaders during AAPI Heritage Month. Tejal Bhalani joined Superior HealthPlan in 2019 as a Utilization Therapist and is now a Clinical Educator. She is also a member of the St. Louis Business Diversity Initiative Fellows Experience Program (SLBDI) and Centene's MOSAIC and INSPIRE Employee Inclusion Groups (EIG).
Tejal is a trained physiotherapist. In the following questions and answers, she explains how she applies her clinical skills to training Centene team members, the importance of the alliance, and the significance of AAPI Heritage Month.
Q. Tell us about your background and current role as a clinical educator at Superior HealthPlan.
A. I emigrated from India to the United States in the late 1990s after completing my bachelor's degree in physiotherapy. I then obtained a post-professional degree in physical therapy in 2001 from the University of Florida. I started my career as a clinical physical therapist and was later promoted to a management position. Throughout my healthcare career, I have worked in a variety of interdisciplinary settings and have had the opportunity to work with multiple healthcare providers as I pursue my goal of serving our diverse community. I continue to volunteer regularly at work-sponsored events, at my children's school, and at other non-profit organizations to give back to our community. I am also a board member of a local public charter school.
After nearly two decades in the clinical field, I transitioned into a Utilization Specialist position at Superior to apply my clinical skills and experiences to the next level. Three years later, I had the opportunity to take on a role as a Clinical Educator and I am beyond thrilled to be part of our incredible team of education, performance monitoring and medical program specialists. In my role, I facilitate and evaluate our health plan call department training programs for our clinical and management staff, both in the office and remotely. I integrate a variety of training methodologies including e-learning platforms. I also onboard and coach new on-call clinicians and support the continued development of existing on-call clinical teams. In addition, I monitor, analyze and prepare progress reports, evaluations and evaluation tools. I feel lucky to be part of the Centene family because they nurtured and nurtured my ambitions and purpose.
Q. What is the most meaningful part of your job?
A. The opportunity to indirectly serve our members by participating in the training of teams that deal with our members' requests. The opportunity to interact, communicate and collaborate with multiple teams and ensure an effective outcome for our members and vendors is rewarding. I work with teams from diverse backgrounds and understand regulatory guidelines and quality requirements from an operational perspective when training our employees who help members get the services they need. The ability to impact the community we serve fuels me and drives me to excel and perform "superior" every day.
Q. Who has influenced you the most during your career and why?
A. Mother Teresa was one of the most influential personalities. His selfless dedication and tireless attitude to improving lives around the world truly inspired me. I have also been blessed with great leaders, mentors, peers, sponsors and advocates who have been role models in my motivation to excel. I currently also have an excellent mentor who is very supportive and encouraging.
Personally, my husband was a pioneer in my career. It recognizes my strengths, my weaknesses and my skills and motivates me to progress and take up challenges. His work ethic and his approach to his personal and professional life are inspiring. He is truly my friend, philosopher and guide on my journey.
Q. What do you think of Centene's approach to diversity, equity and inclusion (DEI)?
A. Centene is strongly committed to driving innovation through DEI. I am proud that Centene embraces and respects the experiences and ideas that employees bring and share through various platforms and programs. The leadership of DEI is a shining star of our organization with multiple recognitions. As a current scholar, I also appreciate and commend the St. Louis Business Diversity Initiative (SLBDI) scholarship program which focuses on enhancing the leadership capacity of people of color.
I am involved in several EIGs which are Centene's main drivers for an inclusive work culture. These GIEs join forces with the Centene Talent Attraction team to organize several events. Our talent attraction team receives training to become Certified Diversity Recruiters. Centene recently achieved a major milestone and was again named one of DiversityInc's Top 50 Companies for Diversity. I was excited about the appointment of Sarah London as the new CEO. She illustrated how Centene supports a diverse workforce from the top. Our workforce of 76% women and 48% people of color further illustrates Centene's approach to DEI.
Q. Tell us why you got involved in GIE INSPIRE and MOSAIC?
A. I wanted to learn more about Centene and get involved with the company in a way other than my assigned role. I regularly visited CNET to catch up on company news and read company emails and that's when I heard about the various GIEs. I did some research and felt inclined to join MOSAIC and INSPIRE. I contacted the management of the GIE and offered to volunteer. I took on a co-lead role and several other volunteer roles. I haven't looked back since and loved every moment spent with GIEs. My commitment, the opportunities available and my passion for growth have contributed to my success within the organization and beyond. A critical part of my ability to participate in anything beyond my primary role was the support I received from my managers and leaders. Without their support, this really would not have been possible.
I learned so much from these roles – collaboration, communication, time management, networking, resource management, operational management, technology and financial management are key characteristics that continue to have an impact, to improve and improve my interaction not only within my team, but in several cross-functional areas.
Q. How important is the alliance to you and how can employees be better allies?
A. The alliance is just as important as DCI. It is very important for engagement with the added benefits of increased productivity, trust, transparency, belonging, sense of security, personal growth, professional growth and longevity in the within the organization. Employees can be better allies by adopting a "listen, learn and act" approach. We need to raise awareness, educate ourselves and participate/act.
For example, if an employee or chief of staff notices that a team member is not participating or engaging in weekly meetings or huddles or is underrepresented, they should reach out and listen, learn, be open to their points of view and create an environment to promote opportunities. for that team member to engage and be their powerful voice when needed.
Alliance is an ongoing process of relationship building to ensure inclusion and equity in a diverse environment.
Q What do you think about the importance of Asian American and Pacific Islander Heritage Month?
A. As an individual of Asian descent, it is an honor to have achieved a heritage month dedicated to Asian Americans and Pacific Islanders. Besides being proud, it is extremely encouraging and motivating to hear about the recognitions and contributions that Asian Americans have added in the fields of science, medicine, literature, art , sports, etc and their unique journey to embellish the legacy of the United States. . It stimulates my present and my future to reflect on these efforts and to strive to multiply and improve upon the success stories of the past.